Storage Oregon provides memorable and affordable Airstream vacations.


We have for rent a vintage 1965 Airstream Overlander trailer.    This is a desirable and collectible Airstream travel trailer designed to make your vacation original and fun.
Watch our youtube video and see how nice this trailer is inside and out.
Exterior:
The exterior has just been cleaned and polished giving it the rare Vintage Airstream look: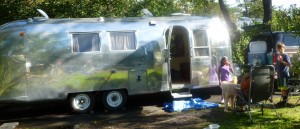 A family photo enjoying our 1965 Aistream Overlander at the Oregon Coast.
 The finish we provided gives a mirror like shine, the photo taker is a reflection.
Nice inside and out.
Interior:
The interior has new paint, new counters, a very attractive cherry wood floor, a upgraded bathroom and much more.
Removable table and Cherry Wood floors.
 Updated Bath room.
  Main sleeping area.
Main sleeping area also folds into a couch.
The table area also folds into the family bed space.
Then folds back to a table space.
New counter tops.
Three burner stove.
This Vintage 1965 26ft AIRSTREAM OVERLANDER comes complete with:
Front Window Stoneguard
Electric Trailer Brakes
Nice well-cared for wood cabinetry & trim
Interior that is in great condition
Desirable screen door enclosure
(1) Convertible Double Sofa bed in the front galley
(1) Double kids bed in the Middle Compartment
Foldout Dinette & Counter extension
Electric refrigerator
(3) Burner original stainless stovetop
Cushions and upholsterers in good condition
Cherry wood ring in good condition
Windows intact all around and functioning w/screens
New Kitchen countertops
Entry Door Deadbolt Lock
Upgrated Bathroom tub/shower/sink
Interior and Exterior Lighting all in good working condition
The coach has a dry weight of approx. 4080 lbs according to factory specs and a hitch weight of 418 lbs.
Easy to tow, light, and aerodynamic all reduce the cost of gas.
1965 and 1966 model AIRSTREAMS are considered the most desirable by many loyal followers.
Rates:
| | |
| --- | --- |
| Airstream 26 foot Overlander | Cost $75 per day |
| Weekends     (Fri-Sun) | $150 /2 day min |
| Weekdays | $350/ 5 day |
Uses:
Parking outside house for overnight guest/mother in law visit.
Low cost vacations
Romantic nostalgic getaways
         Please read the advantages to renting versus buying, this study did not factor in this Classic Airstream wow. 
Availability:

Many dates are still available, but interest has greatly increased, so to help insure your proper days please reserve early.
We can help arrange transportation, and place this Airstream at a location you like in most situations, please call and ask for Robert.
Requirements:


Proof of Insurance is required.
Storage Oregon provides memorable and affordable Airstream vacations.


I would like to know about the low cost Airstream rentals and availability:
Related Articles:
[catlist=3]
Vintage Airstream News:
Airstream News:
RV Rental News:
Oregon Roadway News: