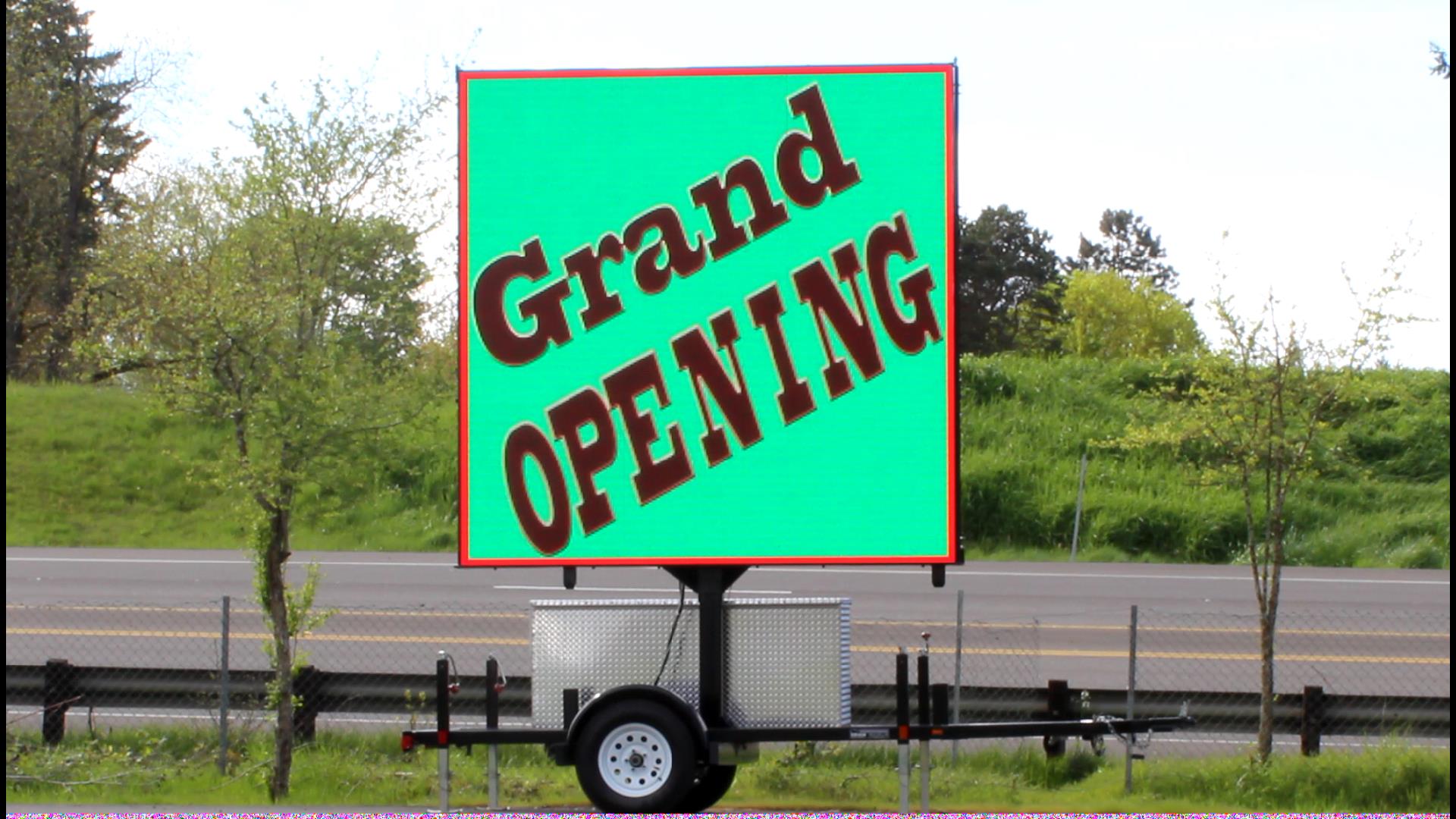 If you are looking for more customers for your businesses, almost nothing provides greater value than point of sales advertising.   A very large LED screen outside your location with great content can truly due wonders.  What better way to increase your returns than to market to your prospective buyers who already drive by your location possibly daily, now with LED-Trailers.com you can change the add until you know it works.
Your In Control
What better way to sell products then test them on a big LED screen outside of your business, or move the big LED screen between your chain of business, if the advertisements doesn't work the first time, then try another add tomorrow, soon you will know what kin/d of adds and products pulls in your clients, soon your returns could be immediate.  In time you can put together outstanding time tested campaigns to match your product launches, all under your own control.
Large Number Of Viewers Close To Point Of Sales
This is the beauty of the mobile LED large screen, it give motorist and pass buyers next a short video presentation why they should come in. We know of no better product to provide higher quality message, very high attention and awareness, that's closer to the highly valued point of sales, yet simple to manage and own.
You Could Relax Knowing That Quality Is First
We have made both a high quality and simplicity of design are main focus from day one. This reflects in our quality and simply as potential buyer want to see an attractive solution that works well.   To do this we took a modular approach in trying to identify best of product in each element of our outdoor mobile video display trailers.  Our modular approach allows us keep very high quality as we  focus on the smallest of details.  This has allowed to achieve much higher quality product, designed form the ground up to be the best,  at a overall lower cost allowing you to achieve you a better investment.
We have our trailers built to last,  the trailers are designed in a way that the video screen could be replaced or improved over time and allowing you to keep the same underlying mobile platform.
A  LED display screens are the largest we can find, that mean more more eyes will see your adds, and from a further distance.  So when you combine our historic larger screen, our higher quality, established from being  from the ground up all at often a much lower price you see if your looking for a better overall advertising investment we are the ones you need to call.
We have three options:
Build a large LED Screen to your request.
The best values by far are:
The Rockwell at only $28,995
The Rockwell includes the many following ( * ) options:
* 13 foot diagonal LED Screen: approximately 10 foot x 10 foot
* We use all standard Input signals, such as: VGA, Video, AVI, MOV, MPG, DAT, VOB and more.
* Single button Hydraulic lift system to raise the mast and screen, the single button makes raising or lower the screen as simple as hitting 1 button.
* Delrin® lined mast, to reduce friction and increase tolerances.
* High Quality large locking aluminum storage container to hold the hydraulics, generator and electronics. Keeping valuable safe and hidden especially when having big events..
* Extra wide trailer to stabilize the screen!
* Self start generator to provide large screen viewing with or with out electric power plugins
* 4 leveling corner stanches to change angle of the trailer/screen/slope. These welded corner stanches make setting up the video trailer very easy. .
* To support Advertising and Billboard use: LED-Trailers include hitch locks to increase prevention again theft.
* We built the video trailer systems to be extremity simple and light, so a single person in a parking lot could easily set up a system.
* Lower cost with higher standards
* Our LED-Trailers have built in GPS Trackers
We can provide custom orders also.
We can provide custom orders also.