Low Cost Self Storage Options
At Storage Oregon we have mobile  storage boxes that are the perfect solution for your inside storage needs. They measure 5 X 8 X 8 and our low cost is hard to be beat and if you continue reading you will see how you could do save even more money.
The lockers are water resistant and stored safely inside a secure barbed wire gated fence with 24 Hour Access.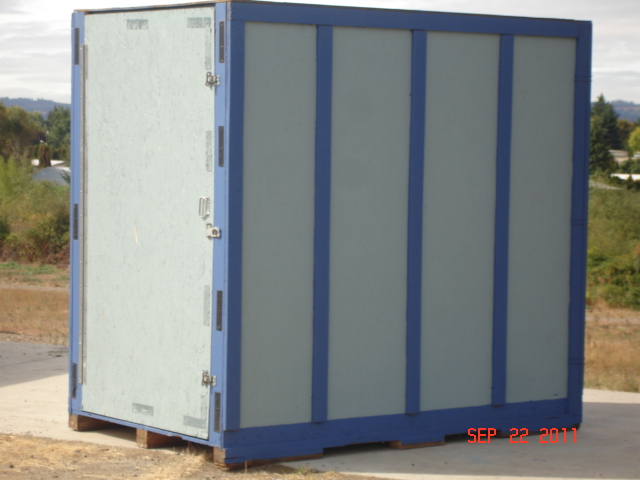 With that the low Month to month rental fee is  only $30.00.
  You have and option to buy the box @ $350.00 with that option you could continue to leave it here at Storage Oregon pay only for the space, this low rent is only $20.00 a month until you wish to move, that a 50% saving and your own the box.   With you taking ownership you saves $120 per year,  that's a amazing 34% of one of the already lowest prices in Salem.   Once purchased the other option is you can pick up and or move the mobile box and to where you want to go.  This makes for a convenient  transition, especially down the road if your want to move to a new city.   We will also allow for outside boxes to be contained at our location again depending on size,  but pricing starts as little a $20 dollars .
You also could by the moving box move it to your back yard, and just keep it their. You have so many options.   My favorite when your about to buy your first house,  buy and rent before your move in,  and then when you move, put this box in your back yard as you load and turn it in to lawn and yard mower storage.   At Storage Oregon were proud to offer more options and flexibility at often much lower prices.
Imagine no packing or unpacking just simple just moving your goods already in the box to your next location.  Our location is next to the I-5 freeway and Salem Parkway and you can see our expansive properties from either thoroughfare.
Should You wish for a trailer to make your newly bought Storage Box, You may also purchase one of those from us as well for a very low price.
So say you purchased the Storage Box and the trailer from us and are still not ready to move it. The storage rate per month would be $12.50 a month.